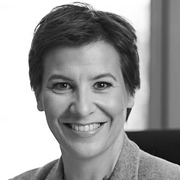 Jelena Jović Milentijević
Managing Director Serbia & Montenegro, EOS Matrix
Jelena Jović Milentijević is Managing Director Serbia & Montenegro, EOS Matrix since 2013.
Jelena successfully turned a company with 34 employees and an annual turnover of half a million euros into market leaders with over 75 employees and a turnover of over 5 million euros. At the moment when leadership of the company passed into Jelena's hands, EOS Matrix was in the process of terminating its primary stream of business, the purchase of retail receivables. However, with the purchase of the first corporate NPL portfolio from a bank, Jelena changed the course of business and pioneered a change in business strategy not only in Serbia, but also at a group level. Today, EOS Matrix is celebrating 15 years of business and best business year (2018/19) in EOS Matrix history. Value of portfolios in their possession is estimated over 500 million euros and they are considered to be partner number 1 for a majority of the banks operating in Serbia.
Jelena works closely with various chambers of commerce and other institutions to lobby for the formation of an adequate legal framework in Serbia. She has actively given suggestions on how Serbia can resolve its NPL issues and regularly shares her expertise at conferences to educate the public and raise awareness in an effort to form best practice trends in the Serbian market. Through her corporate membership in FENCA, she has access to all of the latest global market trends.
Jelena is also a Human Synergestics consultant, specialized in measuring and improving organizational efficiency and culture, developing team dynamics and improving personal styles of behavior.
Jelena began her career at Oracle after completing her studies at the University of Belgrade, Faculty for Organizational Sciences.