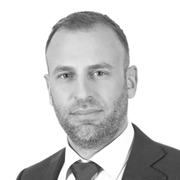 Bernhard Melischnig
Managing Director, EOS Matrix Croatia
Mr. Bernhard Melischnig joined EOS Matrix Company in April 2017 and acts as a Managing Director since September 2017.
Besides the field of debt purchasing and collection of secured portfolios, he is also in charge of Finance and Accounting and Financial Controlling departments.
Mr. Melischnig started his career at Hypo Alpe Adria Group, where he has spent more than 10 years in different management positions in corporate banking and leasing. After HAAB, he continues career in Sberbank and Triglav Insurance. He has a Degree Magister (FH) of International Business Relations in Austria. In 2013 he completed an Executive MBA (EMBA) at Cotrugli Business School Zagreb.
This year, EOS Matrix is celebrating 11 years of business and is ranked high on the list "TOP 500" of the most successful companies by the new value in Croatia. Thanks to the active investing and record investments of 90 mio EUR in secured and unsecured portfolios last year, 2019/20 will have the highest income in EOS Matrix history. With over than 320 purchased portfolios so far, EOS Matrix is considered to be partner number 1 for a majority of the business' operating in Croatia.