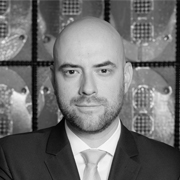 Domagoj Karadjole
Member of the Management Board, Hrvatska poštanska banka dd. (HPB)
Mr. Domagoj Karadjole has over 15 years of experience in banking industry within CEE region. His expertise ranges from areas such as risk management, SME sales management, retail banking, financial management and cost oversight, as well as work-out and collection management.
Mr. Karadjole started his career at Erste bank Croatia in 2002 as a corporate credit risk manager. He advanced to the position of Head of Small business at ESB in 2005, where he built up his esteemed career by acquiring experience in the field of branch management and development of small business operations in general.
Prior to joining HPB, Mr. Karadjole worked as Head of Retail banking in Erste bank Serbia 2010 – 2014, where he was in charge of retail banking and small business.
Subsequently, Mr. Karadjole was appointed as the management board member in Hrvatska Poštanska Banka in 2014, as CFO and CRO. His area of responsibility includes risk management, work-out and collection management, finance as well as ALM.
Mr.Karadjole had a leading role in NPL portfolio sale during 2016/2017 and most recently in an acquisition of one regional bank in Croatia during 2018.