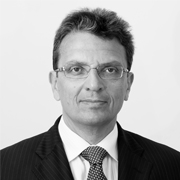 Dr. Imre Balogh
CEO and Executive Director, Bank Asset Management Company (DUTB d.d.)
Dr. Imre Balogh is CEO and Executive Director of the Bank Asset Management Company (DUTB d.d.), the national "bad bank" of Slovenia. Before that, he was a Non-Executive Director of DUTB from April till October 2015 and was also managing as President & CEO the orderly wind-down of Probanka d.d., Maribor between September 2013 and October 2015. Previously, Dr Balogh worked as Chairman of the Financial Board, Corvinus University, Budapest and as advisor and member of the Strategy Committee of the Supervisory Board, First Ukrainian International Bank, Kiev (2013-14).
Prior to that he held positions in sequence as Chief Economist&Strategist, CFO, Chief Risk Officer, Chief Business Officer, in MKB Bank Hungary, and was Chairman/Board member in banks, leasing, brokerage and insurance companies in four CEE countries (1988-2012), and member of Mastercard CEE Advisory Forum (2006-2008).
His earlier experience in NPL management embraces deleveraging distressed retail, corporate and real estate portfolios in Hungary, Bulgaria and Romania after 2008, and a good bank/bad bank split in Romania (2009/10).
Dr Balogh holds Masters and Dr. univ. degrees in economics, PhD in regional sciences, and received executive education at Wharton and Harvard Business Schools.