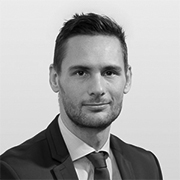 Filip Vučagić
Partner and Director, Colliers International Croatia
Filip is a Partner and Director at Colliers International Croatia. He is responsible for strategic positioning, business development and management of the Investment, Valuation, Advisory and CRE teams for the markets of Croatia, Slovenia and Bosnia & Herzegovina.
In addition to his position on the management board, Filip acts as a mentor to educate and guide his team, ensuring high quality, timely and profound advisory services across the board. His business development knowledge and entrepreneurial spirit make him a motivating leader and clients trust in-depth knowledge of the real estate sector. Since joining Colliers, Filip has provided advisory services on over 500 real estate projects, valued in excess of EUR 10 billion, making him one of the top professionals in the industry across the region.
Prior to joining Colliers, Filip was working banking and insurance. Filip is a graduate of the Faculty of Political Science. He gained a University Specialist degree in Financial Institutions at the Faculty of Economics and Business in Zagreb and he earned his MBA degree in Construction and Real Estate Studies at The College of Estate Management in Reading, UK. He gained his MRICS professional accreditation in Property Finance and Investment program.