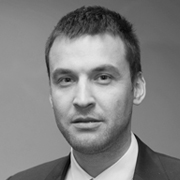 Gligor Bojić
CEO, REAM Podgorica
Gligor Bojić is a CEO of REAM d.o.o. Podgorica. Gligor has gained an outstanding experience while working at two international banking groups (OTP Hungary an NLB Slovenia) in fields of restructuring, non-performing loans management, debt collection and asset and property management.
Mr. Bojić successfully managed portfolio worth over 600 mil EUR in both corporate and consumer loans segment. He was a co-creator of collection strategy, NPL management and collection models in two international projects and initiator of a number of projects including Skip tracing, Debt Settlement Agreements, Collection automation, Debt collection call center, Project financing, Cooperation with Chamber of Bailiffs/Central Bank/Commercial Court, etc.
Gligor set up and managed numerous start-ups and SPV companies with high-value projects. He successfully managed all aspects of sales, negotiated and closed number of high-value deals (over 130 million EUR).
Gligor was awarded twice for outstanding performance. During his career Mr. Bojić was engaged in resolving complex banking, NPL, legal and tax topics, financial issues, real estate management, taking actions before relevant institutions, including courts, bailiffs, central bank, bankruptcy managers and cadaster.
Mr. Gligor Bojić holds BSc degree in Financial Management & Banking and MSc degree in management and MBA from IEDC Bled, Slovenia.