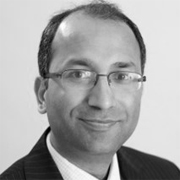 Harish Kumar
Managing Director, Alvarez & Marsal
Harish Kumar is a Managing Director with A&M's Financial Industry Advisory Services Practice. He brings more than 16 years of experience in financial advisory, corporate planning, operations management and turnarounds. Mr. Kumar has played a key role in a range of restructuring and performance improvement projects in Asia, Africa and Europe.

He recently helped a North American PE client with post-transaction support involving carve-out and implementation of value creation plan on AFS transaction with Deutsche Bank in Fund Admin sector. Mr. Kumar recently assisted CVC with pre-deal diligence and creation of value creation plan on TMF transaction. Earlier he advised on Capita Asset Services (CAS) transaction in the UK. In addition, Mr. Kumar has worked on a range of restructuring and transaction advisory mandates in the Financial services sector. Some selected engagements include:
SAREB: Helped the Spanish government with the design and implementation of Asset Management Company (SAREB) to receive problematic assets from various participating banks. He was responsible for defining and evaluating target operating models and organization design.
Hypo Alpe Adria: Assisted with restructuring of nearly €8.6bn Non Performing Loans (NPLs) portfolio spread over 11 countries. Helped create a separate entity for wind down and created a business plan for an orderly portfolio wind down.
NAMA: assisted the National Asset Management Agency (NAMA) with valuations to facilitate acquisition of loans from the participating financial institutes in the Republic of Ireland
A few example of Credit and operations DD engagements include:

New Day, a leading consumer finance company in the UK with more than £1.5b book, on behalf of CVC and Cinven
Purchase of NPL portfolio by PIMCO from UniCredit last year
Acquisition of a specialist Bank by AnaCap in CEE
Sale of Propertize, a loan servicing platform and a loan portfolio, by Dutch state
Sale of Volks Bank Malta
A universal bank in Romania
A consumer lending business in Italy
A large universal bank in Eastern Europe
Lehman Brothers Holdings International: Portfolio management, winddown and reporting of $1.5bn portfolio of NPLs, real estate, private equity and listed securities in Asia.

Prior to joining A&M, Mr. Kumar worked with Coats Plc. (owned by the Guinness Peat Group, a diversified investment holding company with around $1.5bn shareholder's fund), a leading supplier of sewing thread and consumer hobby products with a $1.6bn turnover.
Whilst at Coats, Mr. Kumar co-led the Company's annual strategy and planning exercise with sales and finance heads of various subsidiaries in over 67 countries and coordinated due diligence from the commercial side for Coats in their sale to the Guinness Peat Group in 2003 and later refinancing of the loan Mr. Kumar earned a bachelor's degree in engineering from the Indian Institute of Technology, Delhi and a post-graduate diploma in business administration from Indian Institute of Management, Kolkata. He also holds a CFA charter and a CAIA Charter. A UK national, Mr. Kumar is fluent in English and Hindi.