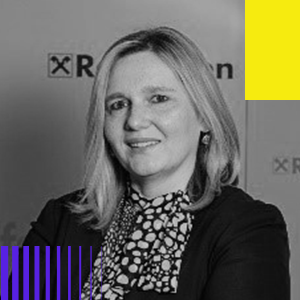 Head of Special exposures Non-Retail and Collateral management, Raiffeisen Bank BiH
Ifeta Jahić is the Head of Special exposures Non-Retail and Collateral management in Raiffeisen Bank Bosnia and Herzegovina, a network bank of the Raiffeisen Bank International of Austria, holding that position since 2016.
Since 2002 she rose through the ranks in the departments of Raiffeisen bank starting from the position of Senior associate for documentary business, then handling the NPL at various position as Work-out Specialist for Non-retail clients, then as Head of Work-out and Restructuring Group, Senior Work-out Officer for Non-retail clients, and just before her current position, Head of Special exposures management – Early-stage Non-retail & Small Enterprises. In her banking career, spanning 25 years in total, she also held the positions of Loan Associate and Branch Manager.
Mrs. Jahić has rich experience in handling a wide variety of NPL cases where she personally handled the recovery of non-performing exposures through the creation and monitoring of the approved recovery strategies.
Besides working directly on NPL cases she also managed ever increasing number of associates, she was involved in drafting bylaws and procedures for her department and managing the collateral held by the bank. She is involved with the training of the bank staff and has been invited to participate at numerous banking forums in Bosnia and Herzegovina and Austria.
Ifeta Jahić graduated from the Faculty of Economics of the University of Sarajevo and holds a Master of Arts degree in Advanced financial management from the same Faculty. The master thesis deals with "Influence of the COVID-19 pandemic induced financial crisis on non-performing loans" and has been published in the EBSCO.s databases in March 2021.
Mrs. Jahić lives in Sarajevo, and she is a wife and a mother of two grown children.