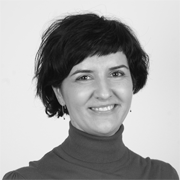 Ivana Žitnik
Eos Matrix d.o.o., Zagreb, Head of department for legal collection of secured receivables
Ivana Žitnik is the head of the department for legal collection of secured receivables at EOS Matrix in Croatia. She is responsible for the evaluation of asset realization and provides legal support to team projects.
Ivana oversees the enforcement process, from coordination and monitoring of the action commencement to participation in bankruptcy proceedings and committees.
She also actively monitors legislation and case law applicable to regulation and practice. Previously, Ivana was a legal consultant for corporate restructuring with EOS Matrix and before that worked as head of workout at Addiko Bank.
Ivana is a qualified lawyer with a degree from the University of Zagreb, Faculty of Law. She speaks English and German.