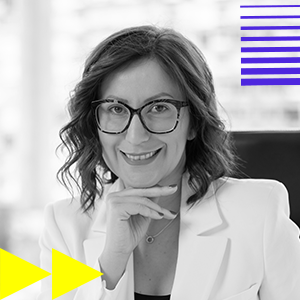 Jelena Jović has been the Managing Director of EOS Matrix Serbia since 2020 with over 12 years of professional expertise in the financial services and NPL acquisitions.
Jelena became a part of EOS Matrix Serbia in 2010 and has since taken on various managerial roles in the operations, strategy, and collection departments. In these capacities, she oversaw teams responsible for tasks such as portfolio acquisition, legal due diligence for different portfolio structures, underwriting, collection, new business development, reporting, and monitoring, among other responsibilities.
In 2015, she took charge of creating and expanding a new business line dedicated to secured corporate NPLs, with the aim of fostering future growth. Collaborating with the local team in Serbia and receiving strong support from EOS Group, she successfully developed the company specializing in acquiring secured NPLs.
This shift in focus altered the company's direction, propelling it to a leading position in the Serbian NPL market in terms of revenue, portfolio volume, and expertise. EOS Matrix Serbia has now become a trusted partner for most Serbian banks, real estate investors, and funds.
In her role as Managing Director at EOS Matrix, she is presently responsible for overseeing a NPL stock totaling over EUR 2 billion, with EUR 1.8 billion specifically allocated to the secured corporate NPL category.
She graduated in banking, finance, and insurance from the Faculty of Economics in Belgrade, and obtained a master's degree in economics within the same field.
In April 2022, Jelena was appointed as the President of the Association of Serbian Debt Management Companies (AKUPS).