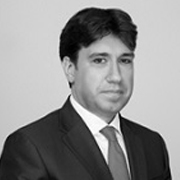 Marko Mićanović
Head – Restructuring Workout and Collection Division, Sberbank
Marko Mićanović is currently heading the Restructuring Workout and Collection Division at Sberbank Serbia, managing the entire spectrum of distressed situations – from workout and recovery efforts in the corporate segment to retail collection to oversight of potentially problematic exposures to SME and corporate clients. Until February 2016, Mr. Mićanović was engaged on M&A and corporate restructuring mandates through advisory firms CEE Capital Partners and Belgrade Capital Group. From 2005 to 2013, Marko was managing partner of Belgrade-based advisory boutique Altis Capital, a firm he co-founded, where he completed over €1.6bn of M&A, capital raising, and debt restructuring deals for banks, leading Serbian private and public companies, and international investors. With Altis Capital or CEE Capital Partners, he advised on bidding strategies for targets in SEE for Warburg Pincus, Charlemagne Capital, Groupama, Credit Agricole, and OMV.
Mr. Mićanović served as Commissioner of the Securities and Exchange Commission of Serbia (2003-2004) and, earlier, as financial sector policy advisor in the Ministry of Finance. Marko was a member of the Board of Governors and Secretary-Treasurer of American Chamber of Commerce in Serbia and held non-executive board positions in Montinvest, KBM banka, Energoprojekt, Serbia & Montenegro Export Credit Agency, DDOR, and Serbian Fulbright Alumni Association.
Marko holds an LLM from the NYU School of Law and a bachelor degree in law from the University of Belgrade.