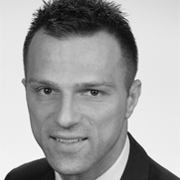 Matej Pirc
BAMC, CEO
Matej Pirc took office as BAMC's CEO on 29 April 2019, after serving as acting CEO for three months, after serving a one-and-a-half-year term as BAMC's CFO. He holds a Bachelor's degree in Economics, with more than 15 years of senior management experience in privately-owned and state-owned companies. He has senior expertise in fields such as corporate governance, finance, accounting, controlling, risk management and other support functions.
He graduated from the Ljubljana Faculty of Economics. He spent a number of years working in executive positions in Mercator Group, both in the parent company and its Slovenian and international subsidiaries. He was a member of the management board of Slovenska odškodninska družba d.d. and later of Slovenian Sovereign Holding.
In April 2014, he was appointed chairman of the management board of Slovenian Sovereign Holding, responsible for equity and other asset management operations, corporate restructuring and finance. Prior to his employment at BAMC, he served as a director in the international advisory firm A. T. Kearney, responsible for projects involving corporate governance, infrastructure projects and M&A projects.