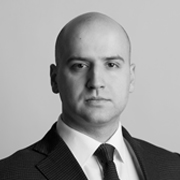 Ognjen Popović
Senior Business Analyst, Ministry of Finance of the Republic of Serbia
Ognjen Popović is a Senior Business Analyst at the Ministry of Finance of the Republic of Serbia on the State-owned Financial Institutions Reform project.
He is responsible for advising and supporting the Financial System Sector within the Ministry on activites related to the NPL Resolution Program, with particular focus on the resolution of NPLs of banks in bankruptcy and claims on behalf and for the benefit of the state. In addition to this, Ognjen is working on the development of national strategies for Capital Markets and Development Finance.
Prior to joining the Ministry of Finance, Ognjen worked as an analyst in the banking & finance, legal and management consulting industries in Serbia and across the Middle East.