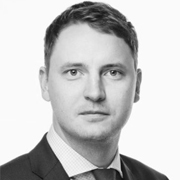 Peter Kadish
VP Transactions / Acquisitions, DDM Holding AG
Peter joined DDM in 2015 and currently oversees all aspects of the portfolio acquisitions of DDM Group in the CEE region.
Prior to joining DDM, Peter was Director of Investments in $5bn private equity fund in Moscow, running M&A transactions of over $1bn. Before that, Peter headed Debt Syndicate in Russian Investment Bank, where he was responsible for all Gazprom Eurobond Placements in 2012 and 2013.
Peter is a CFA Charterholder, served on the Board of CFA Association Russia before moving to Switzerland, recently completed his Executive MBA at London Business School.