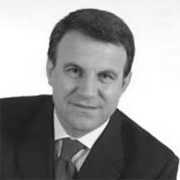 Prof. Dr. Arben Malaj
Former Minister of Finance, Republic of Albania / President of the Institute for Public Policy and Good Governance
Prof. Dr. Arben Malaj, in 1986, has been graduated in Finance at the University of Tirana.
Since 1993, he has been part and full-time lecturer at Faculty of Economy at University of Tirana.
During 2005-2006 attended Harvard Kennedy School (HKS), as Senior Fellow at M-RCBG, focusing on research on Western Balkans European integration.
Throughout his long professional career, Prof. Dr. Malaj has made a valuable contribution to the academic and public sector.
1997-1998 he served as Minister of Finance; 2002-2003 Minister of Economy and during 2004-2005 Minister of Finance. During these mandates, he served as Governor of Albania at the World Bank.
During 1997-2013, Arben has been a member on Albanian Parliament, chairman and vice chairman of the Parliamentary Committee on Economy and Finance.
1999- 2001, he has been Chairman of Albanian Parliamentary Delegation to the European Parliament.
In 2009 Prof. Malaj has been rated the country`s best politician.
In 2013 Prof. Malaj co-founded the Institute for Public Policies and Good Governance (www.ippm.al). Now he is the Honorary President of IPPM. (http://www.ippm.al/)
2015-2016, he has been elected as Chairman of the Economic Council of Mayor of Tirana.
2016-2017, Arben has been rated as Albania's best economist.
2016- Member of Supervisory Board of Bank of Albania (https://www.bankofalbania.org/)
2016-2017, worked as the Rector of Luarasi University. (http://www.luarasi-univ.edu.al/)
In 2017, Prof Malaj has been elected Honorary President of the Tirana Chamber of Commerce
From December 2017 – Prof Malaj is the Honorary Counsel of Austria (http://austriasa.com.al/)
Prof. Malaj is the author of several economics studies and has mentored many doctoral candidates on topics related to local and global financial developments. He has also published several scientific publications in Albania and abroad and has authorized / co-authored several texts.
Prof. Malaj has held a series of open lectures at various Albanian, regional and American universities. He has given his public contribution to media and visual media through various opinions on issues of Albanian economy and finance.