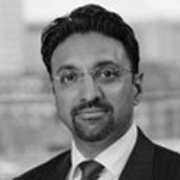 Raj Apte
Partner, Head of Restructuring for Central & Southeastern Europe, EY
Raj Apte is a Partner at EY. He is the Head of Restructuring for Central and Southeastern Europe (CSE). Raj is responsible for the delivery of all EY's restructuring-related services in the 22 countries that comprise CSE. He joined EY in February 2016, bring over 20 years of experience in corporate finance.
Previously, Raj was the Director of the Restructuring & Financial Advisory Group EMEA at Lazard in London and Frankfurt, where he was also Head of Restructuring for Germany, Switzerland and Austria. Prior to that, Raj worked for Morgan Stanley in London, first in the Leveraged and Acquisition Finance team, and then as Executive Director in the Restructuring and Financial Advisory Group EMEA.
Raj has broad experience in serving borrowers and creditors in complex, cross-border restructuring transactions across a variety of industries and sectors.
Raj is dual qualified as a Solicitor (England) and as a German attorney-at-law (Rechtsanwalt). He is also an Associate Member of the Chartered Institute for Securities and Investments. Raj speaks English and German.