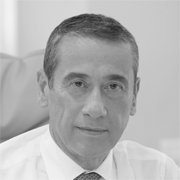 Silvio Pedrazzi
Chairman of the Board, Association of Albanian Banks
Mr. Pedrazzi took office as Chief Executive Officer and Board Member of Intesa Sanpaolo Bank Albania on 1st October 2013.
Mr. Pedrazzi started working in the Italian Banking System in 1978 and joined Intesa Sanpaolo Group in2000. He held, in Italy, the positions of Director General in Cassa di Risparmio di Spoleto (1996-2000) and in Cassa di Risparmio di Ascoli Piceno (2000 – 2006). Abroad he was appointed as First Deputy Chairman of the Management Board in Banca Intesa Beograd (Serbia, 2006 – 2008) and as Chairman of the Supervisory Board in Pravex Bank (Ukraine, 2008 – 2014);
Mr. Pedrazzi was also the Head of Commonwealth of Independent States (CIS) & South Mediterranean Area Department of Intesa Sanpaolo (Italy, 2012 – 2013), in charge to coordinate the Intesa Sanpaolo Subsidiaries based in the Russian Federation, Ukraine and Egypt. In Bank of Alexandria, he was as well appointed as a Board Member and Chairman of the Audit Committee.
Mr. Pedrazzi, in Albania, is currently active also in the following key Business Associations:
Association of Albanian Banks (AAB): Chairman of the Board (2018)
Foreign Investors Association of Albania (FIAA): Member of the Board (2018) and former Chairman (2015 – 2017)
Confindustria Albania: Founder and Member of the General Council (2017)
Albanian Investment Development Agency (AIDA – State Agency, 2015): Member of the Board of Directors