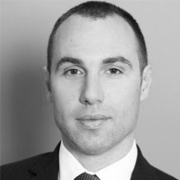 Vladimir Pavlović
Director, WM Equity Partners
Vladimir has more than 15 years of experience in Serbian financial markets. He has proven track record in the creation of legal and institutional framework (National Bank of Serbia, Serbian Central Securities Depository), but also as an active participant in financial markets.
Vladimir is a managing partner of the WM Equity Partners since its incorporation and Chairman of the Board of Asset Management Company FIMA Invest. He participated in numerous restructuring procedures in Serbia (more than 50) and in numerous transactions of sale of NPLs.
He is one of the founders of the two private equity funds (WMEP 1 and WMEP 3) that are specialized for transactions with NPLs in Serbian market.
He obtained his bachelor and master's degree from the Belgrade Faculty of Economics and Ph.D. in Public Finance on the Faculty of Political Sciences. Since 2006 he is a CFA charter-holder.