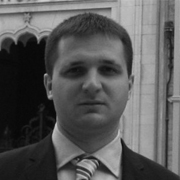 Vladimir Petrović
Head of Macroprudential Supervision Division, National Bank of Serbia
Vladimir Petrovic has spent over 10 years with the National Bank of Serbia and currently is Head of Macroprudential Supervision Division. During his career, he has been focused on NPLs resolution, financial stability, supervision and regulatory function. From the very beginning, he is deeply involved in the NPL resolution process in Serbia. He actively participated in both organization and work of the Belgrade Initiative started in 2013 aiming to foster the process of NPL resolution in Serbia.
Vladimir is a representative of the National Bank of Serbia in the Inter-institutional Working Group formed in 2015 by the Government of the Republic of Serbia, with the task to develop the Strategy for the resolution of NPLs and to monitor its implementation.
Since the adoption of the Strategy, he has been involved in activities related to the implementation of the National Bank of Serbia NPL Action Plan.
Mr. Petrovic graduated from the Belgrade University with a degree in law and he is a holder of the Portfolio Manager Certificate issued by Serbian Securities Commission.