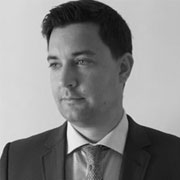 Vladimir Vesović
Head of Late Workout Department, Raiffeisen banka a.d.
Vladimir Vesović is the head of the late workout department at Raiffeisen Bank in Serbia. His responsibilities include managing corporate and SB NPL portfolios and managing internal processes intended to expedite the resolution of the banks' NPL portfolios.
He is a member of the team responsible for the provisioning process of NPL and non-NPL clients of Raiffeisen Bank and is a member of the working group tasked with drafting and adopting INSOL principles.
Vladimir is also the Chairman of the Business and Corporate Law Committee of the American Chamber of Commerce and is a regular participant of roundtables and conferences on various banking and finance topics.
Vladimir is a graduate of the University of Belgrade, Faculty of Law, and has qualified to practice law with the Belgrade Bar Association. He is fluent in English.